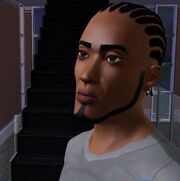 Ragnarok-Vorkel (talk) 06:58, January 21, 2014 (UTC)
Darrell is a repeatedly mentioned character in the Keisha's Valley series who has allegedly had intercourse with both Breadquanda and Deltrese.
Appearance
Edit
His hair is black and done in a braid. His whole hair is braided back to keep the hair off his face. He also has a thin beard that travels across his jaw line and connects in an equally thin line to the bottom of his lip[1].
Darrell has a golden earring on his left ear. He wears a white shirt and possibly blue pants with a black belt[2].
Personality
Edit
Darrell has a bachelor-like personality from what has happened in all the episodes of Keisha's Valley. He sleeps around and hasn't a high regard for being a father.
Background
Edit
Darrell slept with Deltrese and Breadquanda, though whether the story of Breadquanda neutering him is real, we do not know yet. When Ashawanabufontonquibalafondelarequandalaquishabanishatishabufontrellaniquandrea saw this event, she rang up Keisha , and things escalated from there. He seems to have a child with Keisha and appears to not be in the young man's life, as Keisha sings a song requesting money for a baby as well as noting that Darrell had not seen him take his first steps.
References
Edit
↑

As seen in the picture above

↑ based on the image seen on the Darrell page and on the Keisha's Valley home page picture