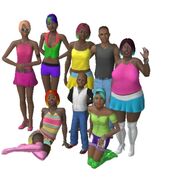 If you found this wiki somehow join this discord server and add me on snapchat:@janetsnakehoe, because clearly you clearly are a person of culture 
Keisha Fabo
Edit
Keisha Fabo is a YouTube series/sensation created by YouTube user MA, which revolves around the ghetto fabulous  life of Keisha Fabo and her friends. it is often named Keisha's Valley, due to the third episode in the series naming that as the official title with the opening theme.
Characters
Edit
Background
Edit
YouTube User Matteo Agrusa uploaded the first episode "Keisha Fabo" on June 16th, 2011. The following two episodes, "Keisha Fabo 2" and "Keisha Fabo 3" were uploaded a day later and a week later. As of December 2017 no new episodes have been released. Apparently Matteo did not mean for the videos to get as famous as they did (The first video having 1,172,957 views and counting) and refuses to make any new episodes of the series. The comments of every single one of his videos are nothing but complaints as to why he doesn't upload Keisha Fabo videos anymore and when they are coming back. Today, Keisha Fabo is an internet sensation that keeps gaining more viewers, and is currently a meme that is often seen on Tumblr-especially the quotes "Hoe Mah Gurr" and "Some Bitch Named Deltrese".
Else: Editing Pages
Edit
If you'd like to edit pages on this wikia topic, or make a page, you are to cite your sources otherwise risk the data being removed. It will be likely that it will be removed since such a short series cannot be expanded on unless more episodes are compilated.